Remembrances of Enid
by Helen Mason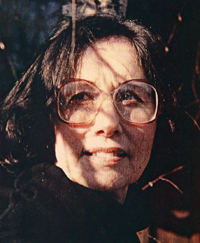 It has been difficult for me to write to you all these months concerning my fondest thoughts of Enid. Please forgive me.
Enid was a remarkable woman and a dear friend. I loved her inner drive, to be the best no matter what the obstacles were. This made everything she did successful. Her beginnings as a printmaker led her to her most well-known work as a book artist, for which she received great acclaim. Nothing fazed her when she struggled to beat cancer. There was never a time when she let you know her suffering. She was always upbeat with the hope that she would recover and tried every treatment to win the battle.
Bob and I shared many wonderful times together with Enid and Gene including dinners, theatre, art exhibitions, and New Years Eve celebrations.
Enid and I both loved art as fellow artists which brought us so close together. There are so many wonderful memories that I have of Enid that will remain with me forever.
Helen Mason